Today we are off to The Seychelles.  The island is Mahé home of the capital city Victoria.  The port does not have a dock big enough for our cruise ship so we have to go in by tender.  On the long ride to shore there was quite an animated discussion as to how small this place was. The port talk on board had mentioned that Victoria was perhaps the smallest Capital City in the world.  Having been to Pitcairn Island I argued that Adamstown, Pitcairn Island, with a count of 54 as total population for the country was the smallest.  The question became how do you define a city?
The next observation concerned the name of this city, Victoria.  We were on a world cruise and could recognize whenever we arrived at a former British territory, because in every one there was a Victoria town, city, clock, square, street, mall, building, or market, take your pick. Another marker was the left hand driving.  It gave new meaning to the sun never setting on the British Empire.
On shore, we (two couples) hire a driver/guide who told us he would show us the entire island and take us to the best beach restaurant in Mahė for the Sunday Brunch.
Mahė is beautiful and Sergio our driver/guide was knowledgeable.  He drove up to high mountain rain forests, down into deep valleys.  He showed us beautiful beaches, amazing rock formations and pointed out exotic flowers and birds.  A most interesting sight was the Coco de Mer which is a twin coconut indigenous to the Seychelles.  They are a protected species.  On seeing the male plant (L) and the female (R), overheated imaginations brought waggish comments, titters and guffaws. We were nonchalant  having been given the heads up, er..bottoms up? by Sergio.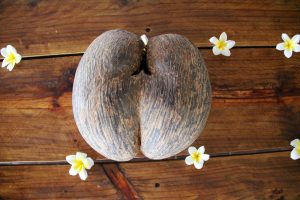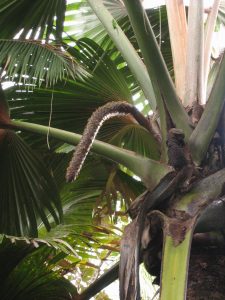 We walked through a part of Morne National Parc, once a large slave plantation.  There is a viewing pavilion which was opened by Queen Elizabeth II in 1972 and from there the view was absolutely stupendous.
We drove by the very rich and secluded Baha'i compound and Sergio told us the current wife of the President was the daughter of the leader of the Baha'i   Community.  He was quite proud of the fact the Baha'i Faith was founded in The Seychelles.
It was a very hot day and we were hungry too.  Thankfully Sergio announced we were only fifteen minutes from Anse Takamaka beach where we would have lunch.     What a relief!  A gorgeous beach, an indoor /outdoor restaurant set with bright tropical linen, flowers on every table, long cold drinks being made by the bartender.  We looked over at the villas and all decided this would be a perfect place for a relaxing holiday.  But now, on to the Sunday buffet where everything looked wonderful.
"Hello my friends.  What would you like to try first?  You may come back as often as you like." The smiling serves welcomed us and gave information about how each dish was cooked.
"Seychelles cuisine is a fusion of Creole, African, French and more.  We have something for everyone. This huge fish is a red snapper and there are four curries, many Creole salads, chicken, pork, curried octopus, different kinds of rice dishes, fried plantain, curried bat which is a specialty…."
"Hold on, curried BAT!!!???"  I asked in astonishment.
"Oh yes, they are fruit bats and they are delicious."
I shuddered. I would pass on that dish, but adventurous Al looked at it and said:
"Curried bat?  I think I will try it." Immediately, Peg, Al's wife, looked at him in horror and said: "You put that in your mouth and you will never kiss me again." It was not only the vehemence of the statement that got us laughing but the look on her face of consternation, disbelief and other emotions that defied description.  The depth of her abhorrence gave a gravitas to the statement that far outweighed the situation. It was a profound, heartfelt and dire threat.
Lunch was absolutely delicious.  We ate, and ate.  Al never touched the bat.  Obviously, he preferred the kisses.
As we were leaving, Sergio walked us over to see the giant tortoises, indigenous to The Seychelles resting in their enclosure.  They were indolent.  They are HUGE.
Sergio delivered!
The Meander:  The Seychelles will always be remembered not only for its beauty but for this experience I call the threat.  I have yet to meet someone without a phobia.  How were we to know that for Peg, it was bats.  For Peg, eating the enemy was just not on.  For me, another page for my story book of travel adventures. Unforgettable.