We were in the middle of eating an authentic delicious gourmet Indonesian dinner in Sanur, Bali. It was Valentine's Day and Duncan, our 'Dutch son', met only a week previously, was celebrating his birthday.
He had asked the hotel owners Semadi and Rini, to prepare a special Indonesian meal to mark the occasion.  You can do that when your winter home/hotel is family owned, small, where staff and guests mingle, and guests are treated like family. There were eight of us including Semadi and Rini.
We were teasing Duncan about being a Valentine's baby when I made the observation that my birthday was also a special day as I was born on the first day of Spring, March 21st.  A look passed between Semadi and Rini.  Rini sighed and when I asked what the matter was she said: "That is Nyepi, our Day of Silence our Bail New Year.  This year (1996) it falls on March 21st".
Nyepi perhaps the most important religious and culturally significant day of the year.  When a Balinese say it is a Day of Silence they mean it.  No driving except for emergency vehicles, no planes arriving, no cooking, little or no work, no entertainment.  You stay indoors.  There are no Hindu ceremonies on Nyepi in a country which has ceremonies happening almost hourly somewhere on every other day. Devout Balinese Hindus will fast and not speak on Nyepi.
Hotels receive special permission to provide services but tourists are asked to respect this important day and so service is minimal. You are not allowed to go to the beaches. Anyone on the street must have permission from the town council to be out and about and there are security forces to enforce the laws.  I could not wait!
There is excitement all around.  The kitchen staff has been preparing meals for two days and today is March 20th.  Bert and I are up at dawn as we have decided to drive to the Mother Temple, Besakih at the foot of Mt. Agung to witness a bit of EKA DASA RUDRA the 100 year ceremonies and sacrifices. It would take a book to write about the religion of Bali. Suffice it to say that I learned as much as I could in the three months we lived there.  It is all a question of balance between heaven, the earth and nature.  There is good and there is evil.  Accordingly, good cannot conquer evil nor can evil conquer good therefore it is imperative that one respects both.
It was an excruciatingly slow but fascinating drive to Besakih. It seemed all roads led to the Mother Temple and it was a sight to behold.  The beautifully dressed and adorned young women and young men in their sarongs marching up to the temple are indescribable.  The costumes had all the colours of the rainbow and more. There were colourful umbrellas, flowers and garlands and towering headdresses.  The fruit and flowers, effigies and offerings were also colourful. To see them all kneeling, actually sitting in large groups at the temple complex was overwhelming.
Sad to say we did not see the sacrifices as we were too early and I am not sure we would have been allowed to observe them.  Also, we had to leave to get back to watch the Ogoh-Ogoh parade.  As we walked around, the Balinese people, warm, extremely friendly, happy and most welcoming explained the ceremonies and celebrations and told us we had to see Ogoh-Ogoh.
What is Ogoh-Ogoh?  Ogoh-Ogoh are giant statues of demons that represent all that is ugly, negative, and evil.  They are the ugliest creations anyone can imagine.  They are paraded through the streets the evening before Nyepi.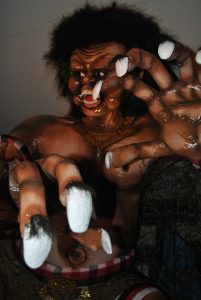 Ogoh-Ogoh sit on large bamboo frames, carried by young men.  For many weeks groups from the various communities have been creating them.  They are grotesque, the stuff of nightmares.  Imagine the most vivid depiction of ogres, horror, and phantoms.  They are terrifying, gaudily painted and menacing as they come weaving down the street. This is evil imaginatively portrayed.  This is their night and they tower over us.  They can be five metres high!  They will rule until sunrise.  It is a fearsome spectacle.  The parade usually ends at a field where they are burned.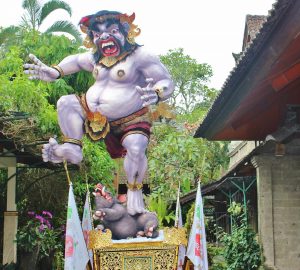 The festivities now over, everyone go home to prepare for Nyepi. You must be home and silent so any negativity or evil spirit still wandering about cannot find you and enter your body to corrupt you or bring you bad luck for the coming year.  It is thought that when the evil spirits come out they will not see anyone around, decide that Bali is empty and leave.
The next day, Nyepi, is a day for introspection and meditation and silence.  For three days before this day you have cleansed yourself, you have been to the temple with your gifts and have acknowledged the evil ones and now this day you pray, fast, meditate and think good thoughts for good luck in the coming year.
My cold birthday dinner was eaten in half light. It was very quietly shared with all guests and staff in residence at the time.  Silence was broken by close family and friends including our new 'son', calling to wish me a happy birthday.  The conversations were very short.   It's Nyepi, after all.
I would not have missed this for all the tea in China.
The Meander:  The festivities and Ogoh-Ogoh were far more interesting than Nyepi.   A Bacchanal is fun. Being good takes some effort.  In retrospect we  have a similar celebration but without the demons.   New Year's Eve is certainly the night to let loose, to have fun and throw off the shackles of the old year.  Come New Year's Day we get busy with the good resolutions.
We are still Mum and Papa to our Dutch son.
(Pixaby images)