I live with a toddler!
Oh joy, oh bliss.
He can be the sweetest or most obstreperous kid alive
Exasperating and at the same time totally lovable.
Contrary, cantankerous and stubborn then meek, sweetly obedient, loving and caring.
Most used words: "No"," Why", "I don't want to"
Most used phrases; "I love you"; I miss you"; "Where were you?"
Most frequent activity: Sitting in 'his' chair, eating, sleeping,  going out for a drive, hugging me, always teasing.
His blue eyes fade when angry, anxious, fearful, hurting or lonely.
When all is well they become deep twin bluebirds of happiness
They shine that perfect Dutch Delft blue.
He chortles with glee at the simplest of pleasures,
He twinkles when he wins the battle,
He beams with love.
He cries in sadness and in happiness.  He is happy when I am happy and sad when I am sad.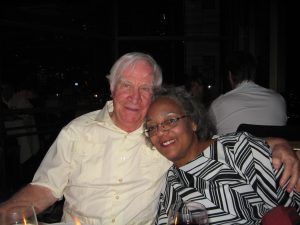 But best of all he makes me laugh.
My toddler is uniquely mine
My toddler is 85 going on 5
My toddler is my husband
His eyes glisten when he speaks of love…our love!
The Meander: 'Life would be tragic if it weren't funny.' – Stephen Hawking.